The South American U-20 Championship ended with a more than deserved champion. Brazil's 2003-2006 generation once again hit the top of the table as the most talented in the world without needing to bring several of the best players in the squad. Vitor Roque, Andrey, Robert Renan, Mycael Pontes, Marlon Gomes… they did not need Endrick, Matheus França, Marcos Leonardo or Angelo to finish unbeaten. When they stepped up the pace in every game, they were unrivalled. In fact, up to four of them appear in our ideal eleven of the tournament: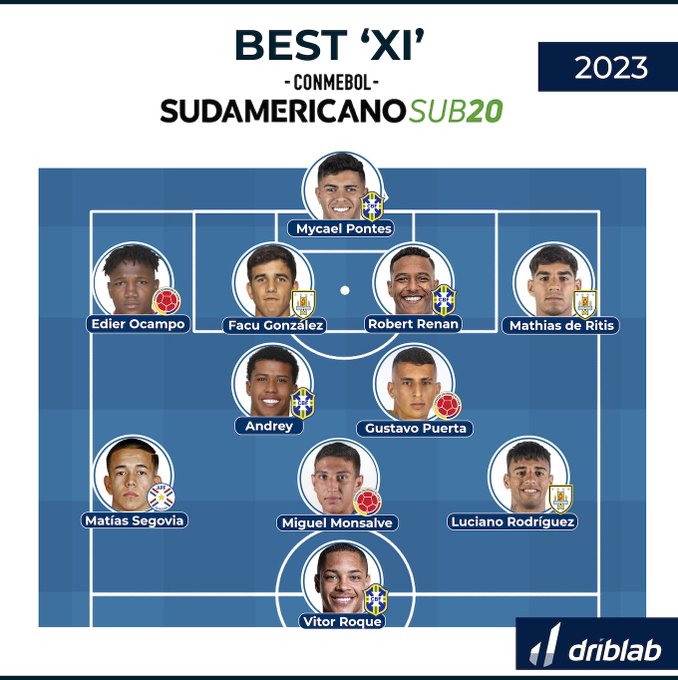 But beyond Brazil, Driblab would also like to highlight ten other lesser-known players with interesting potential, players who have not yet taken that last or penultimate step before reaching the first division.
Darío Osorio (U de Chile, 2004)
Chile were hugely disappointing at the South American U-20 Championship, but there were some players who showed signs of enormous quality. Dario Osorio was one of them. He already has plenty of minutes under his belt at U de Chile and has shown he has a sensational shot from the right flank. He is a winger with all the conditions to reach an important team: remarkable physical structure, good striking, technical quality and ability to produce chances. At his young age, he is already making a difference in the Chilean Primera Division. In addition, he has been able to complete 11.2 progressions every ninety minutes during the tournament.
Gustavo Puerta (Bayer Leverkusen, 2003)
Undoubtedly, the great revelation of the South American U-20 Championship. Gustavo Puerta has played until this month in the second division of his country, but such has been his performance that he has been signed by Bayer Leverkusen. He has been the lynchpin of the Colombian national team. He is a player capable of combining a large number of passes per game, of combining pace and pause. He knows how to break lines of pressure by passing and driving. In addition, during this tournament he has scored two goals and provided two assists. He is a light midfielder with good positioning, vision and remarkable in setting the rhythm of his team's movement. This season he will play on loan at FC Nürnberg in the 2nd Bundesliga.
Matias Segovia (Guarani, 2003)
The Paraguayan winger's performances have been so consistent throughout the South American U-20 Championship that he had to be included in this list. Matias Segovia is a very light winger and physically lacking in muscle bulk, characteristics that he has managed to compensate for with tremendous agility, pace and daring. He has been a consistent, hard-working player with the ability to unbalance inside and outside. In addition, he has shown he has a left foot that is dangerous enough to be taken into account. There is a question mark over whether (and how) he can adapt to a European league, but at least, during this tournament, he has earned the right to make the technical secretariats doubt.
Miguel Monsalve (Independiente Medellín, 2004)
Colombia was one of the most entertaining and competitive teams of the tournament, most probably only behind Brazil and Uruguay. Among their players, Miguel Monsalve was the most special of them all. We are talking about an attacker who can play as a striker, but whose ideal role would probably be that of a second striker, playing behind a reference and moving with a little more freedom. His best qualities come to the fore in the final third of the pitch: he knows how to play and associate quickly, he is daring and has flashes of unpredictability that make it difficult to defend him when he is inspired. He is inconsistent, it must be said. During the South American U-20 Championship, he missed the further away from goal he was.
Nico Paz (Real Madrid, 2004)
Real Madrid's talented attacking midfielder has started to light the fuse on his potential this season. Both his performances in the UEFA Youth League and the minutes he played at the South American U-20 Championship were a good indication of his technical quality and the differential of his left foot. Nico Paz has accumulated 2.45 key passes in these two competitions. He is agile, skilful and has a surgical strike to produce chances. Not many players from the white club end up in the first team, but this may be one of the players with the most potential in the future.
Facu González (Valencia, 2003)
If we are talking about defenders, there are three who could have made the ideal eleven of the tournament: Robert Renan (Brazil), Kevin Mantilla (Colombia) and Facu González (Uruguay). The Valencia CF defender was the leader of the Uruguayan defence. He is a tall, strong, left-footed centre-back who bases his method on good positioning, always measuring distances and using his body to protect the ball. Physically he is slow and does not have much waist, so in more open spaces, he suffers more than usual, but when the block is with him, he stands out from the rest. He also has a good outlet for the ball, both for his daring and good feet.
Pases progresivos de Facundo González
Luciano Rodríguez (Liverpool FC, 2003)
The Uruguayan attacker has been the most inspired individual player of the tournament, without a doubt. That translates into a very high level of dribbling, expected goals and finishing. Luciano Rodríguez signed for Liverpool (Uruguay) before going to the South American U-20 Championship. He is a versatile and versatile offensive player. Above all, he is very energetic, dynamic and intense. He is able to withstand collisions from behind and is stable on the run thanks to his physical power. He will hardly be able to maintain this level of definition in the future, because if he does we are talking about one of the best strikers in the world.
Justin Cuero (Independiente del Valle, 2004)
Ecuador underperformed a little, but as always left a handful of interesting names for the medium term. One of them is striker Justin Cuero. Athletic physique, almost close to being a reference striker, but surprising in terms of movement and self-sufficiency. In addition to having a good ability to unload balls from the back, he can turn with ease, dares to dribble and managed to generate several goal situations out of nothing. He finished the tournament with a brace and four goals, but it looks like he is not far away from a first-team debut for Independiente del Valle.
David Martínez (Monagas, 2006)
There were only three players from the 2006 generation at the South American U-20 Championship: Luis Guilherme and Pedro Henrique for Brazil, and David Martinez for Venezuela. The Monagas player is still very green physically, lacking the strength and pace to give real consistency to many of his moves. However, technically, he left nice and effective details. He's a midfielder. At just 17 years old, he has already played more than 1,000 minutes with the first team of Monagas, in addition to contributing 5 goals and 3 assists, which speaks clearly that he has a potential, to say the least, interesting.
Lucas Assadi (U de Chile, 2004)
A small part of Chile's disappointing performance at the South American U-20 Championship was due to his substitution in the first two games. Lucas Assadi was the most talented player in his national team alongside Dario Osorio. They play for the same club and also have a good amount of minutes under their belts already, despite their youth. His profile is that of a dynamic, agile and associative playmaker. His 2022 season resulted in 2.53 completed dribbles and 1.67 passes into the opponent's box every ninety minutes. A good player who will also make the leap sooner rather than later.
We are Driblab, a consultancy specialized in the statistical analysis of players and teams; our work is focused on advising and minimizing risk in professional football decision-making in areas related to talent detection and footballer evaluations. Our database has more than 200,000 players from more than 180 competitions, covering information from all over the world. Here you can learn more about how we work and what we offer.